Some FAQs to help
What is Social Learning?
---
Social Learning is when people discuss ideas, content, ideas and share problems and solutions togther. We use Twitter as our social learning connector.

The Carrot Learning platform guides you through course content as a social group, steerd by a Course Leader.

For more details visit our "Social Learning" page, or watch this introdcution video: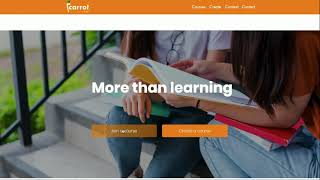 ---
Do I need to be on Twitter to join a Carrot Course
---
Yes you do.

Carrot Courses are conducted across Twitter, directed by the Carrot Learning platform. Social Learning connects you to a group of learners for and beyond the course, not like a face-to-face workshop where you loose the knowledge, experience and help in the room when you leave, you can stay connected as your learning and support jornuey develops with your connections, from and beyond the course. You can use the FREE Carrot Learning to Tweet course to develop or polish your Twitter skills.
---
How long are Carrot Courses?
---
Carrot Learning can happen in short courses, half or whole days, or happen over longer periods.

Social Learning replaces the need to meet up, but still delivers participatory learning; this means that tradtional events like workshops, trade events, university modules, conferences, training etc can all be delivered via Carrot Learning and over simalr periods of time.
---
What can Carrot Learning be used for?
---
Carrot Learning courses bring people together for participatory learning and engagment, creating learning that sticks.

If you are a trainer, events manager or educator the possibilites are endless, some typical uses have been listed below, Training - Deliver content and engage an audience in the subject matter with content they can share and discuss together.

Proffesional Development - Guide learners through content taking them on a joruney of understanding, implentation and changes in practiice.

Conferences/Events - Forgo the incovienience of hosting a physical event and attendees travelling. Deliver your event via social media, it could be a one day or a multiple day event. Provide a rich and engaging event that is shared and engaged far beyond your Carrot Learning Group.
---
Do I get a certificate?
---
Yes you do, and you get so much more!!!

You'll also come away with:

- A list of resources to references.
- Connections with people that you can continue to learn with. - Peer support from those connections as you apply your learning. - Refelctions and actions you've recorded to help you implement further learning or change.
---
How do I use the Carrot Platform?
---
Check out this video to show you around the Carrot Learning Platform.

If you get stuck send us a tweet @CarrotLearning
---
What are the Carrot Learning course types?
---
There are two types of courses depending on cost and accees.

Course Costs - Courses can be free to attend for learners or there can be a charge for learners. This is dictated by who is providing the course. For example an organisation may wish to provide learning to a wide audience and offer access for free, whereas a subject matter expert may charge to have access to the course they are facilitating.
Who Can Access - An "open" course can be joined by anybody, from anywhere. Courses that are "invited" are for a specific group of learners only, this is typcally where the course is provided for an existing group of learners like students, employees, membership groups etc..
---
Can I use Carrot Learning to create my course/event/training.
---
Yes, and we would love to chat to you about that!

Carrot Learning is a leaning delivery platform that is here to support your needs, please do explore our "Create" section that will help Course Facilitators learn more, or get in touch.
---
Can I book multiple learners onto a course?
---
Yes you can. If you are booking on behalf of others simply complete their details on registration and they will be emailed all the information they need to attend the course.

If you would like to book a large number of Learners on to a course please get in touch.
---
Will Carrot Learning work on a mobile device?
---
Yes it will, however, when social learning you are typically following course steps on the Carrot Learning platform, digesting shared content, whilst also having discussions with other Learners. Alll this is possible on a mobile device, however, we would recommend using a larger screen throughout your sLearning experience.
---
---
Got a question on your mind?